Taking the Plunge! A Different Take on Innovation, by Alain Conrard
Taking the Plunge! A Different Take on Innovation is out! By Alain Conrard, CEO of Prodware and President of the Commission on Digital Strategies of the (METI – professional guild for mid-market companies) – Cent Mille Milliards Publishing.
He sheds light on the challenges and scope of innovation, when it is all full throttle ahead and technological advancements keep pushing back the boundaries of our ways of living (robotics, artificial intelligence, deep learning, big data, the Internet of Things).
With his impressive track record in Innovation Consulting for Growth Strategies, Alain Conrard has a unique vantage point when it comes to innovation. In Taking the Plunge! A Different Take on Innovation, he develops a theory based on innovation that stems from hands-on experience garnered from an innovation practice of the highest standard.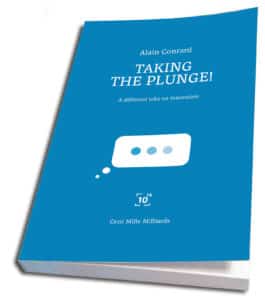 A unique vantage point on innovation
Innovation affects all aspects of our lives. It definitely drives the strategy of companies and supports their growth. Key to their competitive edge, innovation is also key to the prosperity of countries. Nevertheless, innovation raises many concerns such as, "Where does it come from?" "Is there really cause for concern?" "How do we make sure we don't get caught up in something dangerous instead of ensuring that it benefits all?"
Watch videos of the different conversations with Jacques Attali, Maurice Levy, Carlo Purassanta, Laurent Bigorgne and Eric Revel on newtakeoninnovation.com
For the release of Taking the Plunge! A Different Take on Innovation, Alain Conrard and journalist and columnist Eric Revel (LCI, RTL, France Bleu, CNews) talk about the many pivotal issues around innovation with leading public figures.
These captivating and inspiring conversations are broadcast on newtakeoninnovation.com:
Monday, Oct. 26th: Conversation with Maurice Levy, Chairman of the Supervisory Board of the Publicis Group
Monday, Nov. 9th: Conversation with Carlo Purassanta, President of Microsoft France
Monday, Nov. 16th: Conversation with Laurent Bigorgne, Director at the Montaigne Institute
And many more to come…
A conversation with Jacques Attali
"This book clearly conveys the meaning of what creativity stands for. How challenging it is to hit that creative mark, how you need to be innovation-literate on the one hand, knowledgeable of what has already been done, and also be "the new kid on the block" ready to trailblaze like there is no tomorrow."
In this video, Jacques Attali highlights the original angle of Taking the Plunge! A Different Take on Innovation: that of a "business practitioner" who gives innovation a lot of thought and reflects on how innovation could be a driving force for our society moving forward. In that respect, innovation needs to be positive i.e. a dynamic that will serve future generations. Jacques Attali, along with Alain Conrard, make it clear that innovation is above all about creativity. Providing it does not spell out destruction and amnesia, innovation can foster more harmony between Man and all living things.