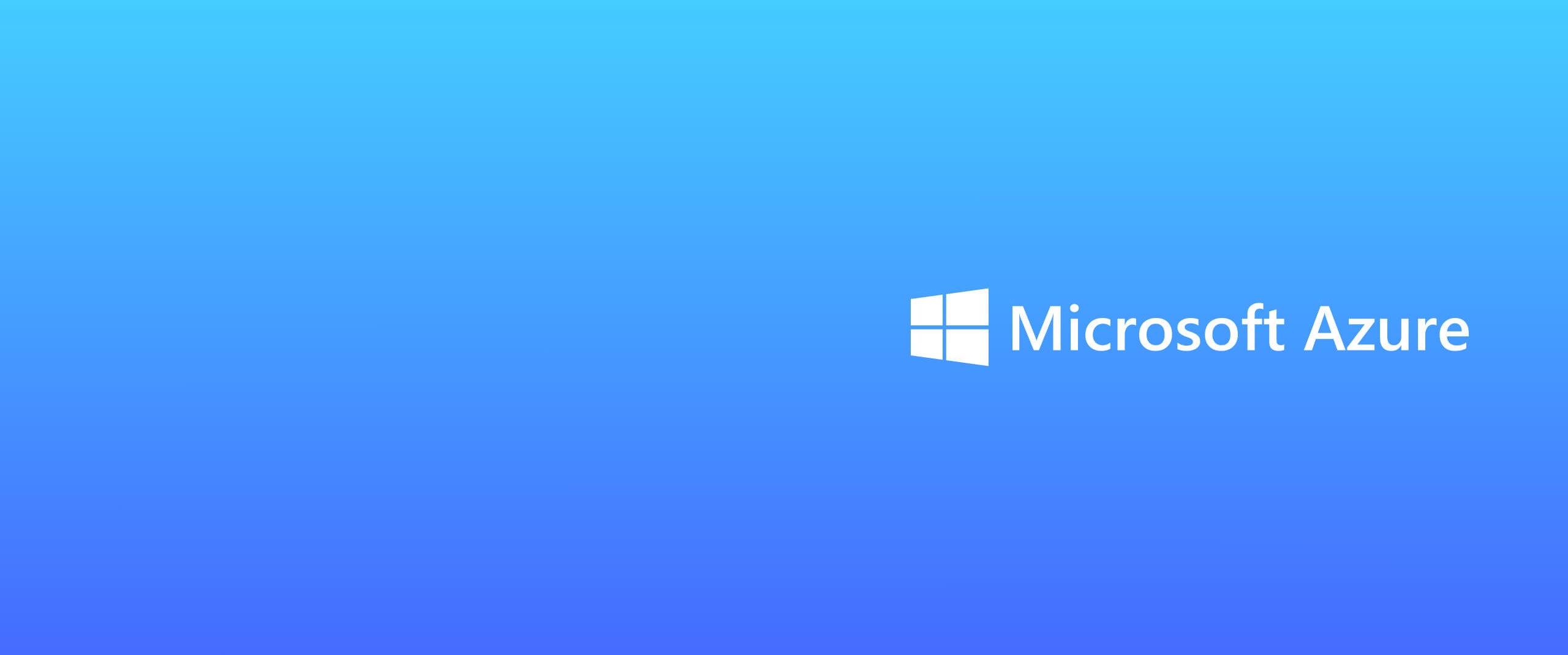 IoT Solutions
Disrupting the status quo with the Internet of Things
Unlock insights from connected devices and transform them into action to create new revenue and business opportunities. Create the Internet of Your Things by connecting your devices, assets, and sensors to collect untapped data. Improve performance and reduce costs with remote monitoring. Predict equipment failures before they happen with predictive maintenance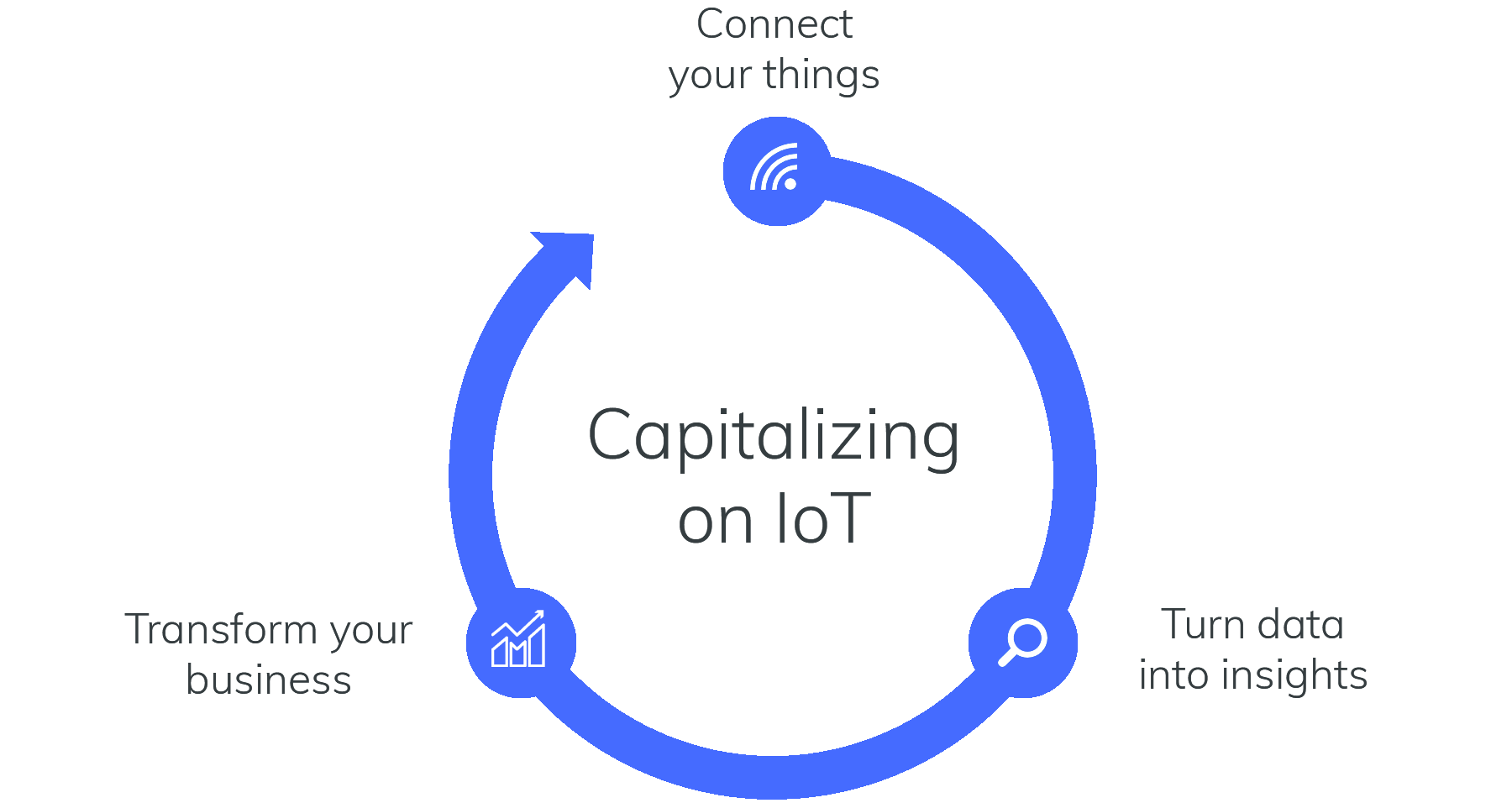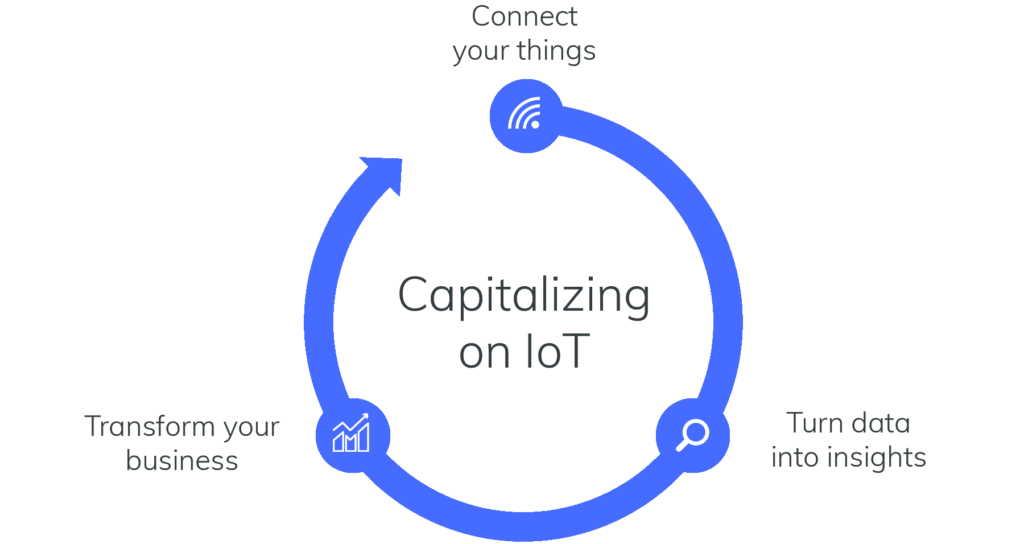 BENEFITS – INTERNET OF THINGS
Get the right IoT solution for your business
Get started quickly and choose the approach that meets your unique needs.
Build Internet of Things with confidence
Enhance security across physical devices, connections, and data.
Integrate predictive maintenance and increase asset reliability
Focus on what matters most to your customers: reliability.
Predict equipment failures before they happen
Head off potential problems, while promoting equipment efficiency, with predictive maintenance.
Azure IoT Services
Azure IoT includes what businesses need to get started, ranging from operating systems for devices, cloud services to control and secure them, advanced analytics to gain insights, and business applications to enable intelligent action.
Software-as-a-Service (Saas)
Solutions, like Microsoft IoT Central, enable companies to get started quickly with a fully-managed IoT solution offering.

SaaS is the right fit for businesses that do not have cloud solution and device expertise and want a solution with predictable pricing without the need to construct or manage a solution in-house.

Platform-as-a-Service (PaaS)
Solutions, like a Microsoft Azure IoT Suite, provide the building blocks for companies to construct customized IoI solutions.

PaaS is the right fit for businesses with cloud solution and device expertise (in-house or through partnerships) who want to fine-tune their services with a high degree of control and customization.
Azure IoT Central
Fully managed IoT SaaS solution that makes it easy to connect, monitor and manage your IoT assets at scale. This end-to-end IoT SaaS solution enables you to create connected products that bridge the physical and digital worlds while deriving new insights to enable better products and experiences for your customers.
The Azure IoT Suite
Customizable PaaS solution that is best used when you need a lot of control over your IoT solution. If your business is implementing IoT for connected operations, or have very particular customization requirements for your connected products, you can have the control you need with Azure IoT solution accelerators.
Preconfigured solutions:
Remote Monitoring
Connected Factory
Predictive Maintenance
Azure IoT Hub
Managed service that acts as a central message hub for bi-directional communication between your IoT application and the devices it manages. You can use Azure IoT Hub to build IoT solutions with reliable and secure communications between millions of IoT devices and a cloud-hosted solution backend.
Azure IoT Edge
Provides organization with the capacity to do local processing. When combined with a PaaS or SaaS solution, edge processing can offer faster calculations and reduce the cost of data sent to the cloud.
IoT Business value scenarios
Why choose Prodware?
Our experts are here to help you develop new ways to leverage AZURE and IoT to support you throughout your digital transformation journey. For more than 30 years now, Prodware has been building value and purpose for its customers fully grasping and leveraging all the technology advances and breakthroughs. We leverage Microsoft's disruptive technologies by designing unique vertical offerings that meet your industry's business challenges while giving your company a competitive edge.
As a Microsoft Gold partner, Prodware is one of the leading enablers of Microsoft solutions in Europe while also a member of Microsoft's Inner Circle. Membership in this elite group is based on achievements that rank the Prodware Group in the top echelon of Microsoft's global network of partners for Business Applications.
Have a project? Let's talk!