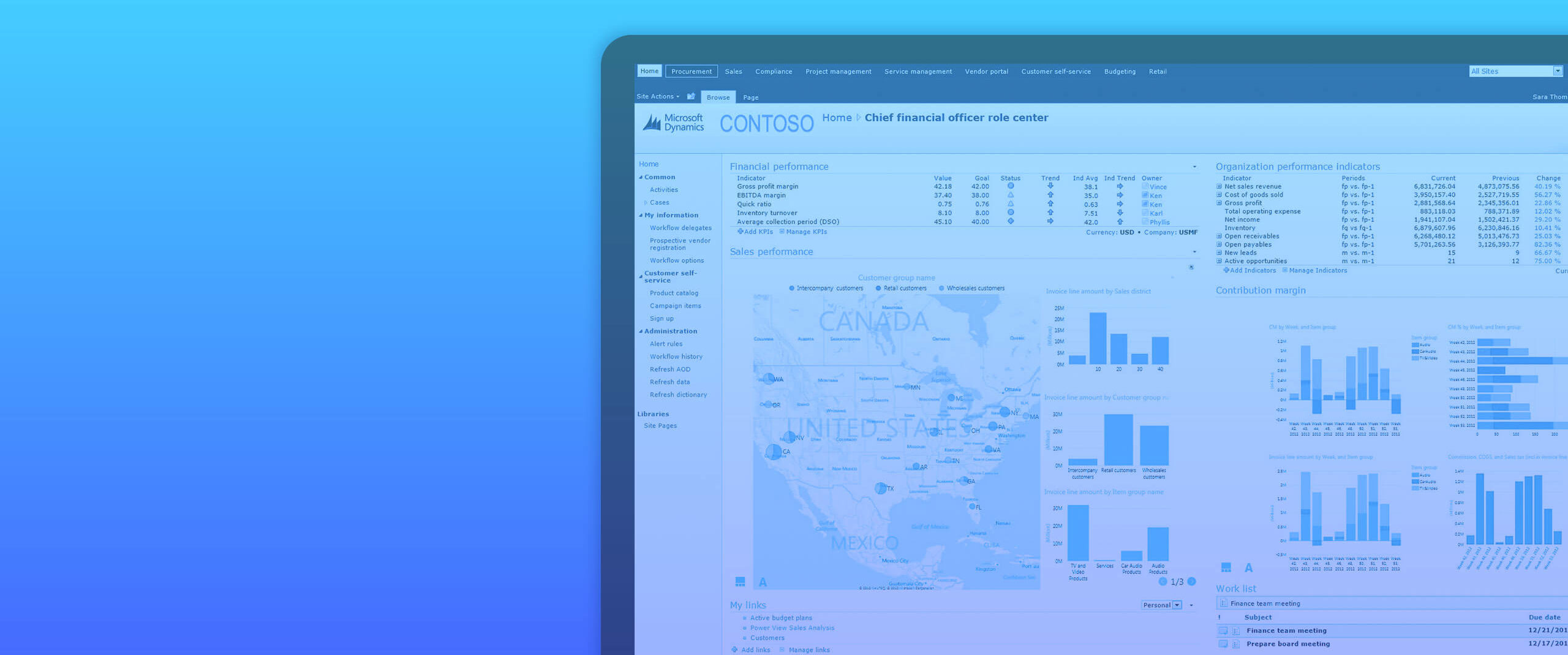 Microsoft Dynamics AX
From Dynamics AX to Microsoft Dynamics 365 for Finance & Operations
Microsoft Dynamics AX is an ERP solution essentially centered around office applications with some Web and mobile capabilities. The Dynamics AX ERP solution allows you to run the following business applications: business intelligence, warehouse storage, finance, retail, e-commerce, stock & inventory, project management, services, Human Resources, manufacturing and distribution. .
AX becomes Microsoft Dynamics 365 for Finance & Operations
Microsoft renamed its suite Dynamics bringing together all the customer relationship management and ERP functionalities into one single product known as Dynamics 365. This product is a single service desk or entry point to a whole host of cloud-based business management processes and applications on Microsoft's Azure platform. The Microsoft Dynamics AX solution is now called Dynamics 365 for Finance & Operations; Dynamics CRM is now Dynamics 365 for Sales while Dynamics NAV has been redesigned into Dynamics 365 Business Central.
Why switch from one to the other?
With digital transformation and smart systems bringing in productivity levels that have completely disrupted markets and economies, companies need to gear up for the future. Dynamics 365 helps companies do just that with the latest state-of-the-art, intuitive and easy-to-use functionalities.

Dynamics 365 incorporates many features found in Dynamics AX allowing for easy and seamless interconnectivity for users and more operational efficiency.
Dynamics 365 for Finance & Operations and AX: what are the differences?
Dynamics 365 can be deployed anywhere and can be used with any device that has an internet connection without having to worry about any logistic aspects such servers. With AX, the ERP and CRM solutions are accessed separately while Dynamics 365 gives seamless access to either for quicker and improved efficiency overall. Office 365 and Power BI are now also part of D365.
Mobility
Because the Dynamics 365 applications are all browser-based, users do not need to download anything on their computer. Access the application from any device that has an internet connection.
look & feel
The new sleek look & feel is designed for a much better employee experience and to foster collaboration among coworkers. The interface can be personalized so that each user can have their own default homepage which cannot be done with AX.
Personalization & reporting
You could easily extend Dynamics 365 through several extensibility points or using third party tools whereas with AX you would need a specific development for the same enhancements. Dynamics 365 provides rich reporting capability with in-memory and real time multidimensional analysis.
updates
Cloud-based instances of Dynamics 365 means updates are released in real time. This little-and-often approach means users are always at the forefront of any new developments with the software and negates the need for time-consuming installations of new product versions as was previously the case in AX.
Why choose Prodware?
We are ScoreFact certified on Microsoft Dynamics 365 for Finance & Operations. For more than 30 years now, Prodware has been building value and purpose for its customers fully grasping and leveraging all the technology advances and breakthroughs. We leverage Microsoft's disruptive technologies by designing unique vertical offerings that meet your industry's business challenges while giving your company a competitive edge. We support you all along your digital transformation journey with our holistic end-to-end value proposition.
As a Microsoft Gold partner, Prodware is one of the leading enablers of Microsoft solutions in Europe while also a member of Microsoft's Inner Circle. Membership in this elite group is based on achievements that rank the Prodware Group in the top echelon of the Microsoft's global network of partners for Business Applications.
Have a project? Let's talk!