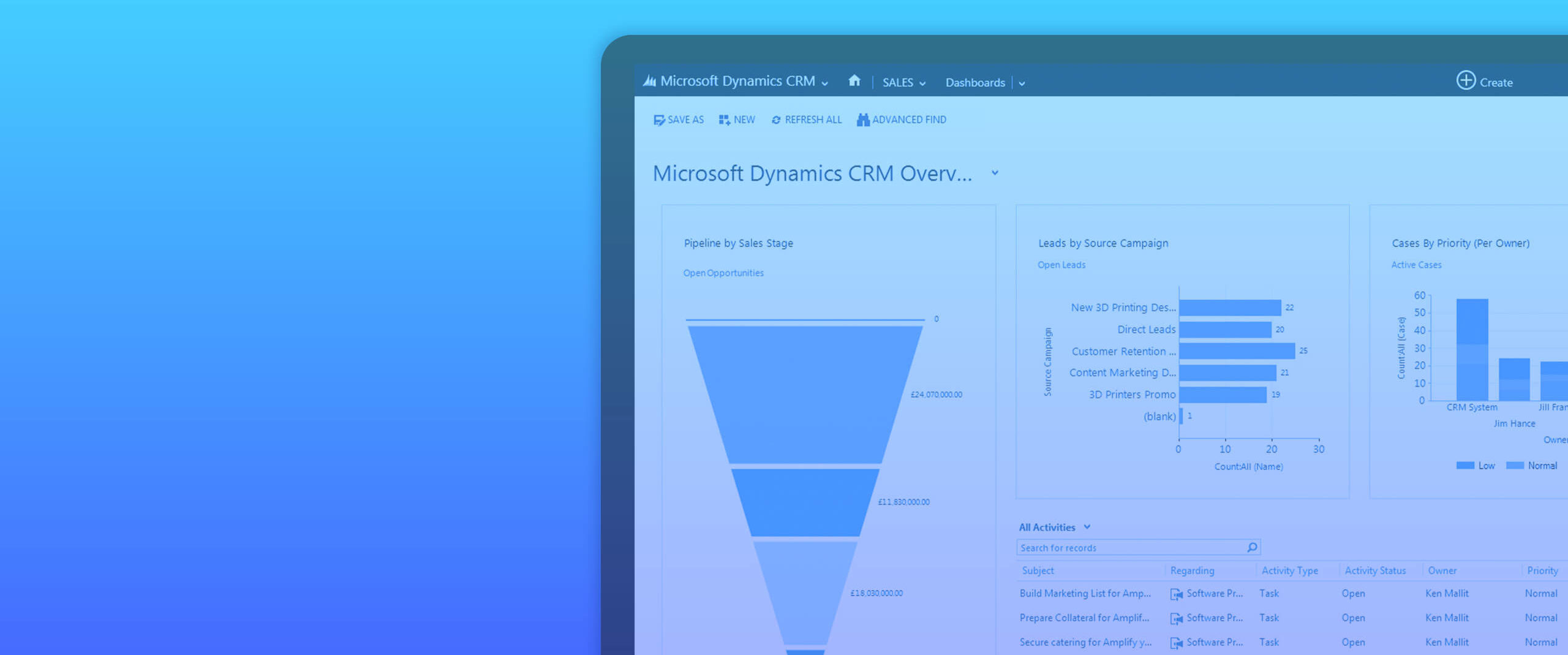 Microsoft Dynamics CRM
Microsoft Dynamics CRM becomes Dynamics 365 for Customer Engagement
Microsoft Dynamics CRM is Customer Relationship Management software solution. Users benefit from a holistic view of all customer interactions with sales, marketing, customer service and support teams while being fully integrated with Outlook and Microsoft Office to carry out daily activities.
MIGRATING FROM DYNAMICS CRM TO DYNAMICS 365 FOR CUSTOMER ENGAGEMENT
From CRM to Dynamics 365 Customer Engagement
Microsoft Dynamics CRM is now Microsoft Dynamics 365 for Customer Engagement, a collection of apps that organizations can choose individually or together, with full integration with the ERP applications of the Dynamics 365 platform, Dynamics 365 Finance and Operations or Dynamics 365 Business Central.
Dynamics 365 for Customer Engagement includes different integrated apps: Dynamics 365 Sales, Dynamics 365 Marketing, Dynamics 365 Customer Service and Dynamics 365 Field Service. To enhance their customer experience strategies, organizations can choose to add and integrate Customer Data Platform apps such as Dynamics 365 Customer Insights, Dynamics 365 Customer Voice and Dynamics 365 Product Insights.
Dynamics 365 CRM vs Dynamics 365: what is the difference?
Digital transformation and the resulting expectations of the modern customer have disrupted the way in which brands connect with prospects and clients. Personalization, agility and proactive communication are the key to delivering seamless and intuitive touchpoints with companies.
Dynamics 365 helps companies deliver optimal customer and user experiences with the latest state-of-the-art, intuitive and easy-to-use functionalities.
The Dynamics 365 suite provides both CRM and ERP functionalities enabling companies to manage all their front office operations from one single and unified platform on the Azure cloud. Dynamics 365 is embedded with machine learning, virtual agents and AI capabilities to support decision making and reduce wasteful admin or repeated tasks.
The Microsoft platform also allows organizations to easily adapt their CRM solutions, with apps such as Power Automate, Power BI and PowerApps. Prodware have also created native role and industry specific apps and solutions to further answer specific business challenges.
Prodware accelerators for Dynamics CRM
CEM GDPR accelerator
The GDPR accelerator enables organizations' CRM to be compliant with GDPR regulations. The accelerator simplifies compliance with privacy requests from data subjects, with an easy to use interface for CRM operators, and logs all operations to comply with record-keeping requirements. This accelerator includes consents database management and search functionality to help your team quickly perform users' rights. Out of the box for Dynamics CRM 2015 versions onwards
Sales Configurator accelerator
Providing accurate quotes to clients and prospects quickly provides a positive customer experience and an accurate internal sales forecast. Organizations with large or complex product catalogs and price structures require a quotation tool that does not slow down the sales cycle. The Sales Configurator allows users to search, filter edit and add comments to their product line items when preparing a quote to help them build quotes with discounts and taxes in detail. Applicable for Dynamics CRM 2016 and Dynamics 365 Sales.
Why choose Prodware?
A Microsoft Gold Partner and member of the Inner Circle, Prodware is the leading Microsoft partner in EMEA and is present in 13 countries. With more than 30 years' experience in the market Prodware develops and deploys innovative industry-specific solutions using Microsoft technology.
Have a project? Let's talk!