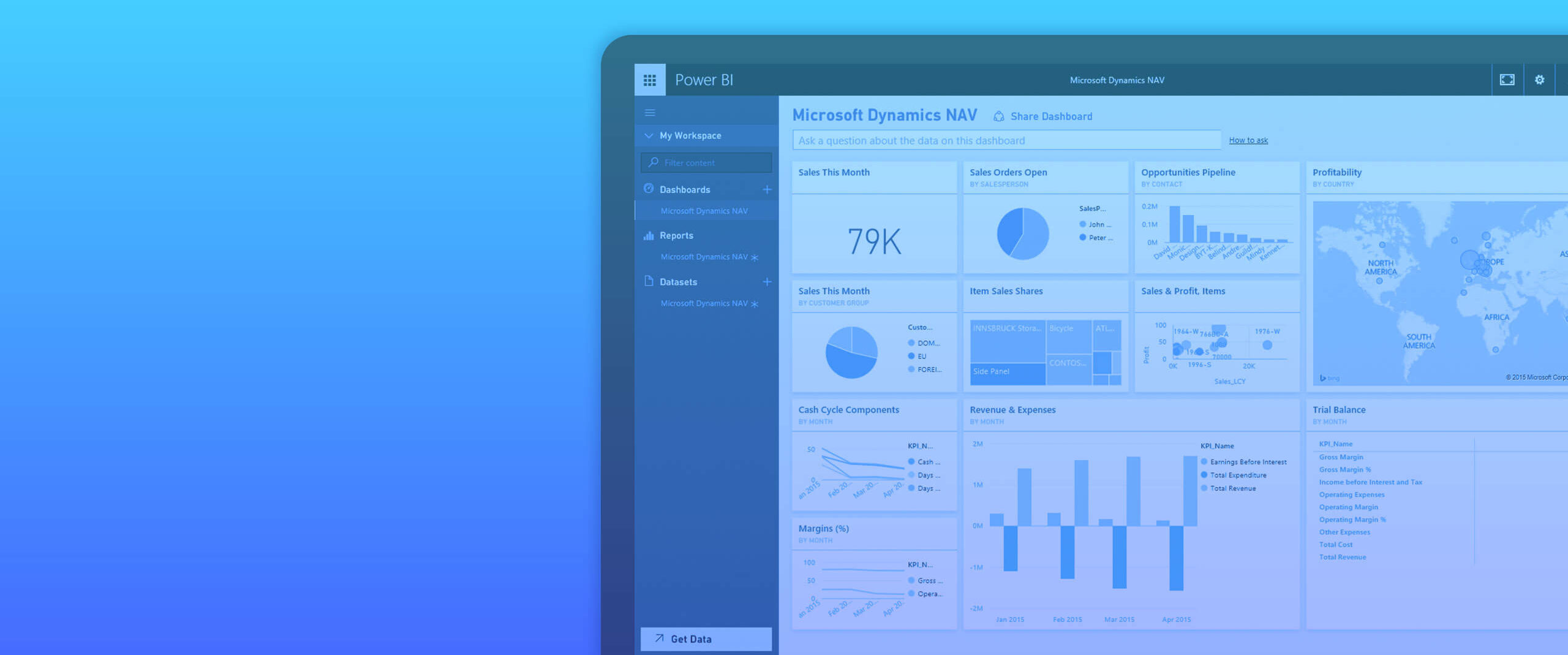 Microsoft Dynamics NAV
Dynamics NAV becomes Dynamics 365 Business Central
The Microsoft Dynamics NAV ERP is an integrated software solution helping companies looking to increase their overall business performance. This is the ideal solution for small and medium-size companies that need to think fast and anticipate their business strategies in a very competitive market. Dynamics NAV gets your business connected. Employees, processes and systems are all connected to enable proper and efficient decision-making in pursuit of your business growth and strategy..
From NAV to Dynamics 365 Business Central
Microsoft Dynamics NAV is now Dynamics 365 Business Central. The major difference between the Dynamics 365 Business Central ERP solution and Dynamics NAV, is that the Business Central ERP is 100% cloud-based which makes this solution very easy to use and manage for companies across all industries.

With Microsoft Dynamics 365 Business Central you can now manage your finance and accounting, operations & logistics, sales & purchases, project management, production and customer service using a single interface running on the Azure cloud platform.
Dynamics 365 Business central: The Smart ERP
The Microsoft Dynamics 365 Business Central ERP is hosted in the cloud on Microsoft's Azure platform. This hosted solution gets rid of siloed management of information which are patterns found in companies using on-premise versions like Microsoft Dynamics NAV.

With Business Central Cloud, you can now benefit from centralized management of your operations and data optimizing your project management and reporting capability consistently across all your business applications.

Moreover, Business Central natively integrates with the rest of the Dynamics 365 suite for a whole host of cloud-based business applications combining CRM and ERP.
Mobile
Dynamics 365 Business Central is a "mobile first" ERP. Business Central fully mobile and an on-the-go solution. You can access the ERP from any mobile device that is connected to a network.
IN THE "CLOUD"
The "cloud first" SaaS business model of Dynamics 365 Business Central is what makes it unique. Although there does exist an on premise version, Business Central's true nature is that of "desiloing" the management of information within an organization. This solution is in the cloud on Microsoft's Azure platform ensuring secured access and data storage.
Flexibility and scalability
Not only does Dynamics 365 Business Central fully integrate with the Dynamics 365 suite but it also integrates with Office 365 and Power BI. You can access the Microsoft Market Place and AppSource to find all sorts of applications to choose from.
PaYMENT
Microsoft will exchange your Dynamics NAV licenses for 365 Business Central named user licenses. The new payment mode is a monthly subscription per user.
UPDATES
With Dynamics 365 Business Central in the cloud updates are a thing of the past. Get seamless and automatic updates thanks to the SaaS subscription model. Moreover, the updates do not affect specific developments in any way.
Why choose Prodware?
We are ScoreFact certified on Microsoft Dynamics 365 for Finance & Operations. For more than 30 years now, Prodware has been building value and purpose for its customers fully grasping and leveraging all the technology advances and breakthroughs. We leverage Microsoft's disruptive technologies by designing unique vertical offerings that meet your industry's business challenges while giving your company a competitive edge. We support you all along your digital transformation journey with our holistic end-to-end value proposition. As a Microsoft Gold partner, Prodware is one of the leading enablers of Microsoft solutions in Europe while also a member of Microsoft's Inner Circle. Membership in this elite group is based on achievements that rank the Prodware Group in the top echelon of the Microsoft's Business Applications global network of partners.
Have a project? Let's talk!