Cybersecurity Awareness
A robust solution and service that ensures the ongoing cybersecurity awareness of your users
Organizations are only as strong as their weakest link in the fight against cybercrime. It is an ongoing challenge that employees are not fully aware of their personal role as the "human firewall" for preventing security breaches. As a key dimension of a ISSP (Information System Security Policy), organizations of all shapes and sizes need ongoing, systematic and updated ways to train staff in how they can spot and prevent all the different kinds of cyber-attacks possible.
Ongoing cybersecurity training that is flexible, engaging and fun to do.
Cybersecurity Awareness is a combined solution and a service to educate, train and support your users in the dangers of cyber-attacks and ensure that behaviors are constantly adapted to the latest threats.
Benefits of Cybersecurity Awareness service
Cybersecurity Awareness: implementation steps and support approach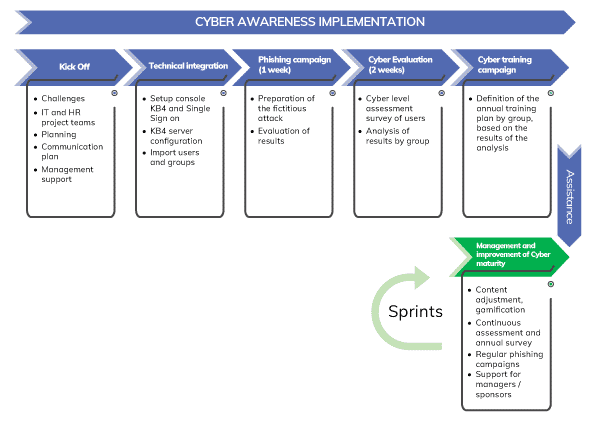 After the implementation of the solution and considering your business challenges, Prodware can support your IT and HR teams regularly (every month, quarter, semester or year) to manage, analyze the results and continuously adapt your Cyber training plan.
Why choose Prodware?
Cyber security is top of mind for all organizations. As a certified KnowBe4 partner and trusted Services provider, Prodware helps our customers in the Cybersecurity domain ensuring the security of your infrastructure and business applications. To make your users aware of cyber issues and ensure they adopt appropriate behaviors, Prodware has partnered with the market leader, KnowBe4, which delivers best in class content and solutions.
Have a project? Let's talk!