Juno Journey
Employee learning platform for Dynamics 365 Human Resources
By connecting learning to professional and personal development, Juno takes employees on an ongoing holistic journey of onboarding, skills development, learning and training; all considering professional and personal aspirations, making internal mobility a natural part of your organization's' life cycle.
With the Juno Connector to Dynamics 365 Human Resources from Prodware, vital data can be exchanged between the two applications for a truly holistic way of aligning business and employee goals; with an additional Power BI Learning Dashboard for management analysis.
The data exchange between Dynamics 365 Human Resources and Juno Journey to support learning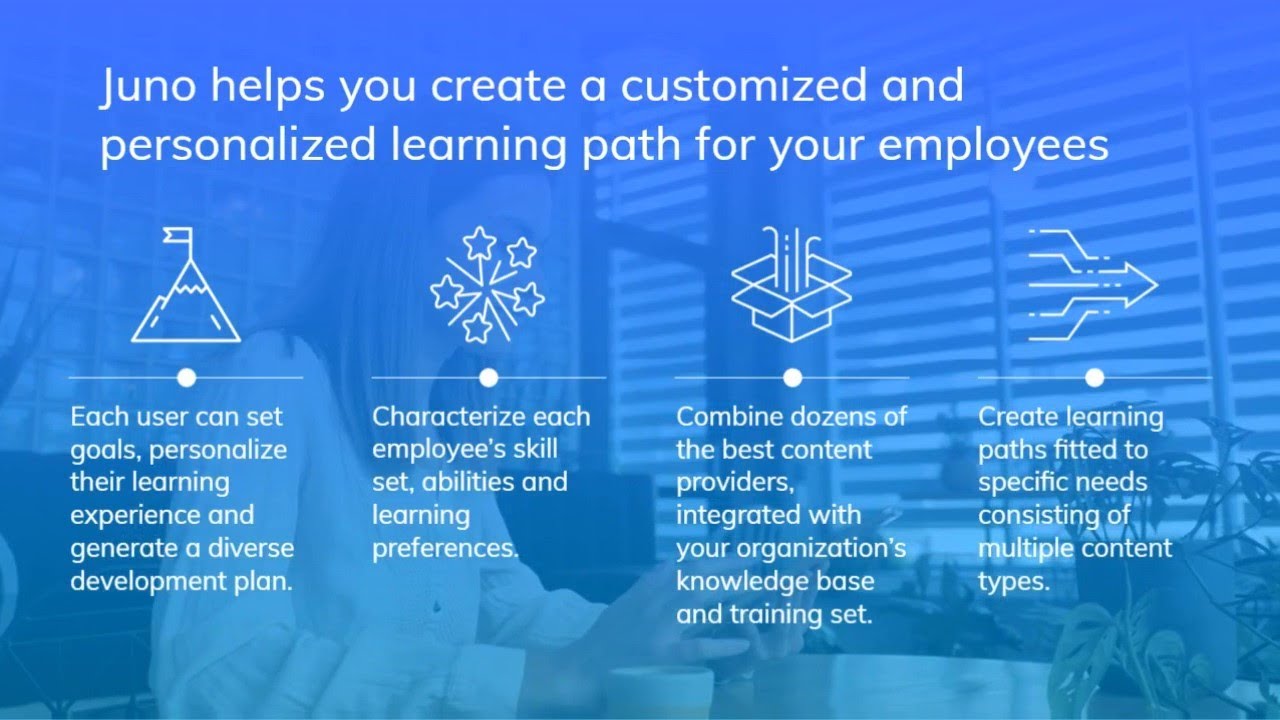 BENEFITS – Juno Journey
Customized and personalized training
Create learning paths fitted to specific needs consisting of multiple content types
Empower employees
Each user can set goals, personalize their learning experience and generate a diverse development plan
Focused and proactive learning
Characterize each employee's skill set, abilities and learning preferences with suggestions of external content using AI based innovative technology. With the Connector to Dynamics 365, data from Active Directory can be leveraged
Blended learning for maximum development
Combine dozens of the best content providers, integrated with your organization's knowledge base and training set
What's inside…
Learning paths that are easy to build and flexible
The Knowledge Galaxy in Juno Journey
Access additional reporting from Employee Self-service in Dynamics 365 Human Resources
Power BI report combining data from Juno and Dynamics 365 Human Resources
Actual and Target skills of the user can be accessed via Skills & Experience
Why choose Prodware?
As a Microsoft partner, with hundreds of Dynamics 365 clients, Prodware's global experience means that we can match our Microsoft Dynamics expertise with innovative technology such as Juno Journey to modernize the employee experience and development strategies of our customers.
We are an international company present in 13 countries across the EMEA region allowing our customers to benefit from a local service supported by a global infrastructure.
Have a project? Let's talk!