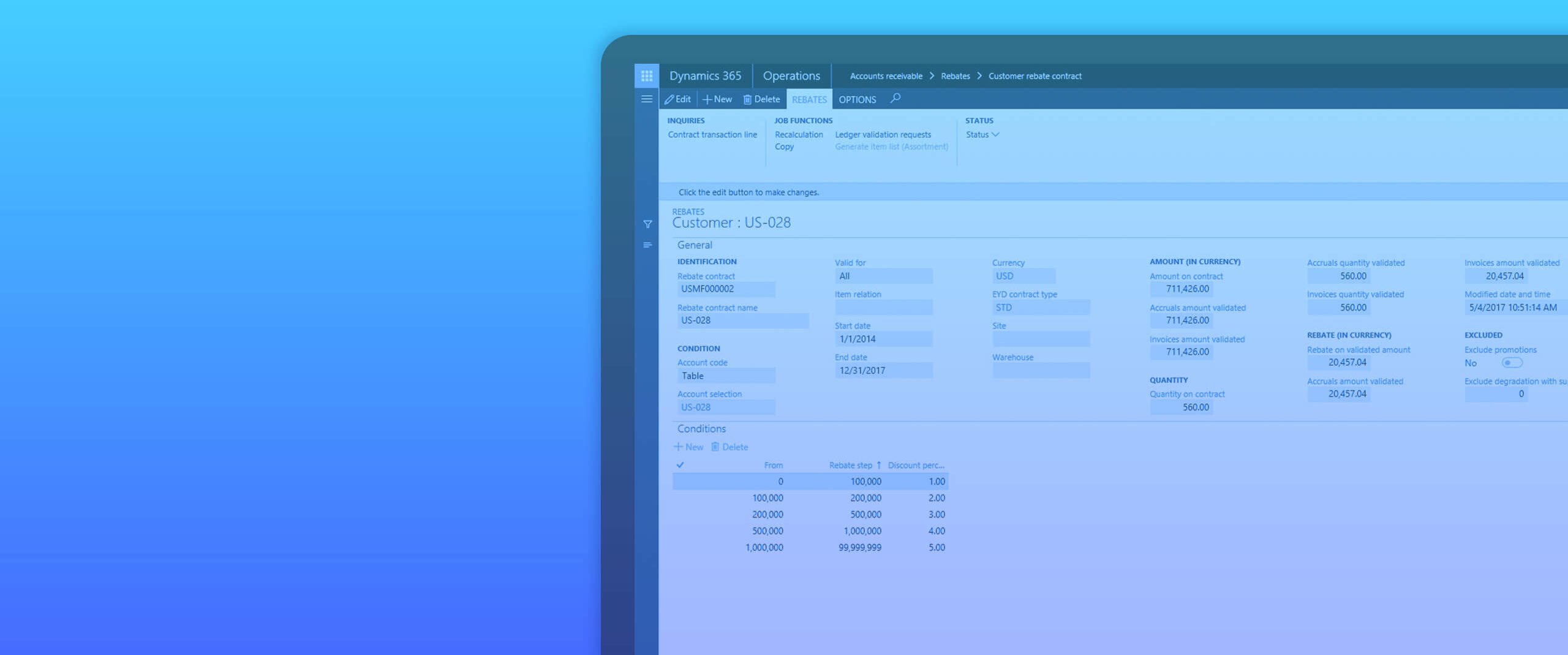 Dynamics 365 Finance and Supply Chain Management accelerators
Integrated add-ons to complement your ERP, to meet functional and industry needs
Fully integrated with Microsoft Dynamics 365 Finance and Supply Chain Management; Prodware's range of add-ons meet functional and industry needs. Whether it is technical, financial or functional our accelerators boost standard functionalities to support your productivity and efficiency across key areas of the business; including IT, Finance, Sales, Warehouse, Producement and Logistics.
Technical accelerators
Technical Starter
To help our customers get started using Dynamics 365 Finance and Supply Chain Management without development, this accelerator contains multiple technical functionalities: Connectivity accelerator, Data replication, Enhanced document management, Archiving document management, Colors by company, Alerts per group, Recording information, and Number sequence improvement with segments.
Supply Chain Scan & Go
The information flow between warehouse, procurement and finance needs to be in real-time in order to maintain optimum customer service levels, healthy margins on stock and the right levels of the right inventory. The accelerator helps by extending the standard functionality of mobile devices in the Warehouse Management module and production in standard Dynamics. Warehouse and production operators can quickly scan products in order to send back information to the back-office. It also includes quality management functionality.
Connectivity
If a company uses multiple external systems, processes and suppliers to run their operations, this can slow the supply chain down; multiple suppliers may use multiple systems or that differ from Microsoft. The Connectivity accelerator helps by providing multiple connectivity touch points in an open and easy to manage app, connects with best-of-breed systems, so no compromise, an interface journal keeps track of events, batch management is simplified.
EDI
The information flow between suppliers, partners and customers can be complex and changeable; so the administrative burden to ensure all elements of the supply chain are aligned can be heavy. The EDI accelerators provide mirror functionality between the customer and supplier modules, with the same connectivity for subcontracted logistics partners. Through one administration monitoring tool users can track import/export activities and batching documents and it pushes information to the end-users. Depending on your needs, choose from Customer EDI, Vendor EDI and/or Inventory EDI accelerators or get the whole pack.
GDPR
The GDPR accelerator for AX and Dynamics 365 Finance and Supply Chain Management enables organizations' ERP to be compliant with GDPR regulations. It supports your teams in search and anonymization requests from customers across key areas of the ERP including financial details and last connections made. For AX 2009 and 2012 versions, the accelerator retro fits your system which has no GDPR functionality. For Dynamic 365, the accelerator boosts standard GDPR functionality to give you full compliance.
WMS Connect
If an external warehouse management system is being used it is difficult to achieve visibility and control over key areas which affect procurement, delivery and customer experience. This accelerator allows users to see received products, delivered products and inventory management in external warehouses and your WMS systems via integration at nine key touchpoints.
OCR Connector
The OCR Connector accelerator helps accounts payable teams to embed and read vendor invoice documents into their system, feeding the data from OCR technology right within your financial processes. The Connector works out of the box with leading P2P automation OCR providers Yooz and Rossum; and can be configured for your own OCR tool on request.
Financial accelerators
Bank Statement
Company accounting management need to regularly check the synchronization between statements of account sent by the bank and the company accounts. Bank statements received by the company contain the following elements: account balance, deposits and withdrawals, and closing balance. The Bank Statement accelerator integrates these statements, from various formats, into Dynamics 365 Finance and Supply Chain Management.
Ledger Depreciation
Manufacturers and distributors need to comply with legal obligations, and so want to control, adjust and see detailed inventory depreciation. ​ In Dynamics standard functionality, users do not have on-hand inventory depreciation​. The accelerator provides on-hand inventory depreciation and debt depreciation processes, with two additional parameters – Depreciation Type and Depreciation Rules. Plus, an additional document to store all released product detail plus users can define their depreciation rules.
Finance pack
This accelerator provides additional functionality for import chart of accounts, DAS2 and NAF requirements for tax and settlements, accounts receivable and payable reporting, check letters, invoice batch management, transaction previews and VAT ID checks.
International Finance pack
More supply chains are becoming global and dealing with vendors and customers internationally in an effective way is key. We can support your international financial processes with our Dynamics 365 Finance and Supply Chain Management accelerator pack of six key areas; bringing together functionality for bank statement reconciliation, third party payment structures, currency hedging and financial views on stock depreciation.
Automatic Ledger
In some circumstances a set of transactions need to be added as they are missing in the standard transaction. For example, WIP (Work in Progress) transactions in the Production and Project module are posted on Balance Sheet accounts but some countries require to post also Profit & Loss accounts. This integrated accelerator generates new transactions based on the original transactions being posted. It meets French & Swiss legal requirements to post two sets of transactions during WIP posting: one standard set for Balance sheet accounts and one set for P&L accounts.
Third Party Payment
Businesses who deal with a customer groups have various roles throughout the group within the sales cycle. For example, Ordered by, Delivered to, Invoice to and Paid by. Often the "invoice to" and "paid by" will be different, but standard functionality is not sufficient to handle this. This accelerator helps by allowing users to enter the payment with the two different accounts (Paid By / Invoice to) on the ledger journal.
Auto Settlement
Companies unable to settle Customer or Vendor transactions during the payment process, deal with time consuming and manual processes to carry them out afterwards. This accelerator helps with additional functionality that implements an automatic settlement that can be executed after the journal has been posted, settling all the transactions matching your filters and criteria. The Auto Settlement accelerator works with the following modules: Accounts Payable, Accounts Receivable and Ledgers.
Ledger Accrual
Increasingly, commercial models are shifting to a service-led approach, with organizations meeting modern customer demand of low-risk subscription-based relationships. Financial processes and systems need to adapt to manage regular payments and deferred revenues with full flexibility. This Finance and Supply Chain Management accelerator extends standard ledger journal functionality to allow users to handle monthly accruals and process as batches for better productivity.
Expense Management
The Project module in standard Dynamics doesn't provide enough flexibility with invoicing expenses to customers. By separating the cost and sales expense, this accelerator helps boost efficiencies by allowing users to set automatic rules for customers, type of expenses and team person role; inheriting values from expense and pending invoice journals. Rules have also been added to allow invoicing a day package.
Functional accelerators
PO Quantity Allotment
Organizations who need flexibility in how they split purchase order requests, find it frustrating with too much manual intervention in repeatable and timed PO administration. The accelerator helps by saving distribution rules by vendor, creating automatic distribution in post-MRP processes, and allowing users to manually launch planned orders using the rules in place.
Item Life Cycle
The accelerator helps to organize, control and simplify data input, plus generate traceability via an audit trail of all data modification and inputs.
Transport Cost
This additional functionality is useful if the transport cost of goods sold have a big impact on your business, or if you need to manage free of charge deliveries or would like to manage the mixture of free and chargeable transport costs in your sales processes.
Product Search
The Product Search accelerator helps by providing new query tools to find a product or a released product on the standard forms (product and released product, sales order, sales quotation, purchase order), plus attributes management by variant and attributes management by category to more easily find the right attribute.
Sales Kits
The accelerator helps by; working with BOM assemblies and product lines in Dynamics, it allows the user to prepare the "kit" at the point of order and take the components out of stock immediately. At the same time, the "kit" can be added directly into the customer's order.
Rebate
The accelerator applies retrospective discounts via credit notes at the end of the financial period, identifying different rebate contracts with different percentage levels, dynamic generation of provisions attached to financial transactions and contracts and identification of invoices that fall within rebate contract frameworks.
Vendor Auto Evaluation
The manual entry of data in standard Dynamics 365 to assess supplier performance can slow down productivity, the Vendor Auto Evaluation accelerator helps by automatically feeding relevant fields from operational transactions, to assess selected vendors' performance based on multiple criteria.
Production Order Consolidation
The accelerator helps manufacturers' productivity and accuracy, by recovering grouping criteria when POs are created; attributes of the launched Product, attributes of the components of the Production Order BOM (if can be inherited from the BOM) and attributes of Production Order range lines.
Cash In Out
Achieve better cash flow visibility and control within your projects and sub-projects. The accelerator provides a projection of cash inputs and outputs on a project over time and to earn revenue with cash flow optimization.
Item Versioning
The accelerator helps manufacturing companies by centralizing escalation requests for item changes, providing a framework and process for version changes of released products and the ability to store tasks and allow notifications of changes throughout the organization.
First Article Inspection
Achieve quality standards throughout your product inspection cycles without productivity loss. The accelerator identifies the certification on the released product, with delay and type validation, blocks the process if the product certification is out of date and produces a list of out of date released products.
Purchase and Sales Optimization
Organizations with conditional trade agreements with vendors (based on quantity, price and discount) often want better visibility on quantities ordered to obtain a better price from suppliers and improve their inventory management, whilst having multiple warehouses. The Purchase and Sales Optimization accelerator helps companies by optimizing planned purchase orders, creating logistical processes in sales order entries to improve delivery between warehouses and from direct vendors, plus enhance sales order deliveries from the most suitable delivery warehouses.
Serial Number Management
If your manufacturing business manages components with batch numbers, serial numbers and by project, there may be challenges to easily track each of these aspects in relation to the finished product. This accelerator follows critical components in the supply chain, from the part supplier through to the customer installation
Project Quotation
This accelerator alleviates the following challenges in using standard Microsoft Dynamics 365 functionality: The integration and subsequent transfer of project quotation information from the sales agreements and project modules is manually carried out; quotation establishment can only be done through the sales price and for services (hours, expenses); prices are set up in the Project module; items are retrieved from sales trade agreements, plus it isn't possible to set a total or line discount when preparing quotes.​ This lack of integration and flexibility affects productivity and efficiency in managing the commercial side of projects.
Project Inventory Tracking
Manufacturers have multiple critical released products and the production process (with multiple levels) involves inheriting that Critical status on the component or sub-component, causing issues when drawing down for project consumption. The Project Inventry Tracking accelerator helps ensure that goods are reserved for the production project without complexity; by tracking projects and monitoring the impact on logistics, specific products to be purchased, related stock movements, and forecast orders, plus providing Project Managers with an analysis via a Power BI dashboard.
Project Overview
Manufacturing Project Managers need to have a view across multiple areas of large production projects, quickly and easily to ensure project financial and delivery KPIs are on track. This accelerator helps by providing one single screen surfacing key information such as billing rules in project contract, project deliveries: summary of item requirements and item forecasts, upcoming invoicing and current or late invoicing.
Project WBS Management
Work Breakdown Structure (WBS) is a best practice approach when organizing projects, particularly in large and complex industrial planning. This accelerator helps manufacturing companies manage tasks, priorities and resources; providing additional reporting for forecasting and planning; without the need for Project Managers to switch screens or input duplicate information.
Customer Channel
When distributors are dealing with customers within a Group, sales order entries can be a challenge; particularly when dealing with high volumes of customer orders manual intervention of delivery and billing information slows down the process and can lead to errors. This accelerator helps by reflecting your customer structures and roles within the supply chain (especially when used in conjunction with the Customer Hierarchy accelerator), boosting the automation of your EDI import when entering customer orders, thus increasing productivity.
Customer Hierarchy
Organizations deal with customers that are often structured within groups (parent, sister, local or international) and must adapt their processes according to the role the various companies within the structure play. This accelerator helps distribution companies to structure their customers in specific ways, with levels that once set, are inherited automatically (for example if you have a customer group organization by county, country and international) and create a link between customers within sales and project processes; which leads to increased productivity and optimized delivery and invoicing.
Trade Agreement
Distribution companies who deal with multiple suppliers, customers and products need greater flexibility and agility in managing price and trade conditions. The Trade Agreement accelerator provides additional flexibility in three key areas, boosting agility and productivity: Data management, Pricing engine and Sales analysis. Companies can adapt their pricing and promotional strategy for each customer, supplier, product, group and timing.
What's inside…
Retrospective discounts with Rebate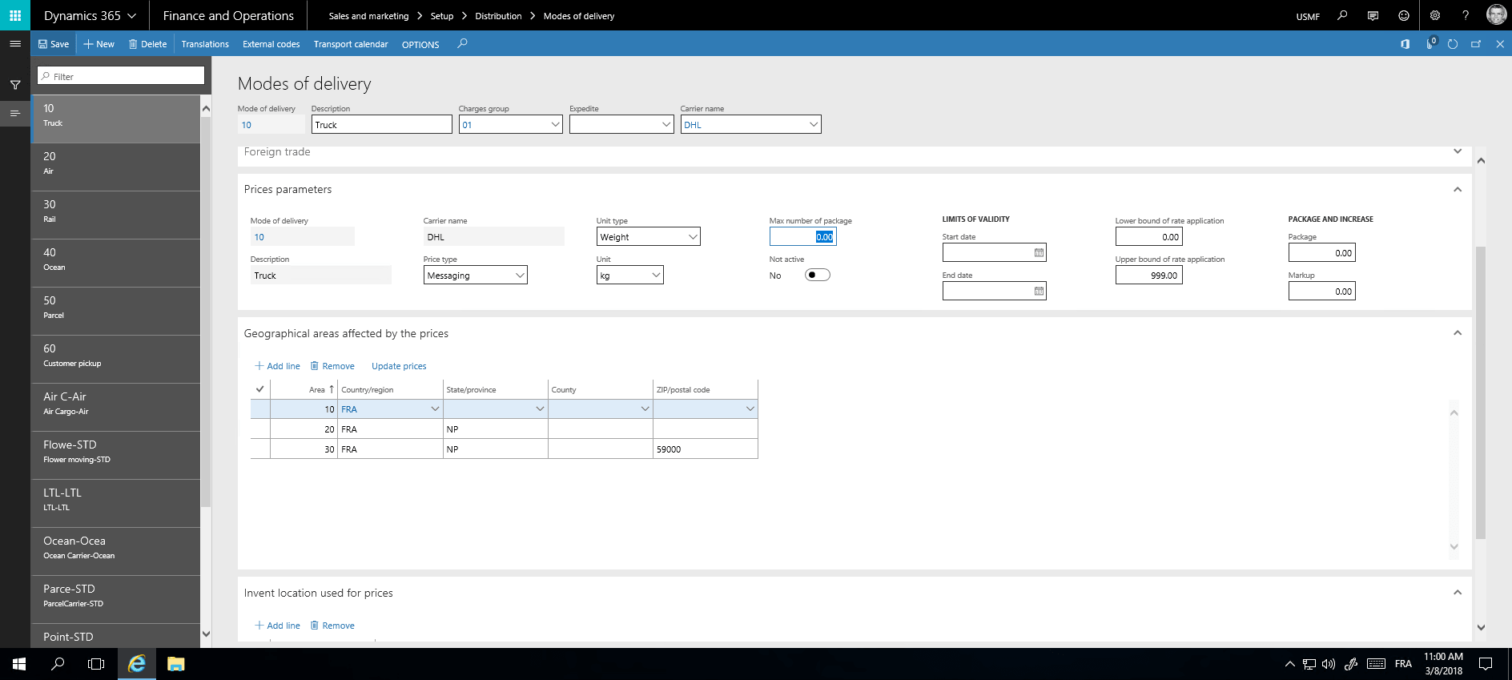 Manage delivery variety with Transport Cost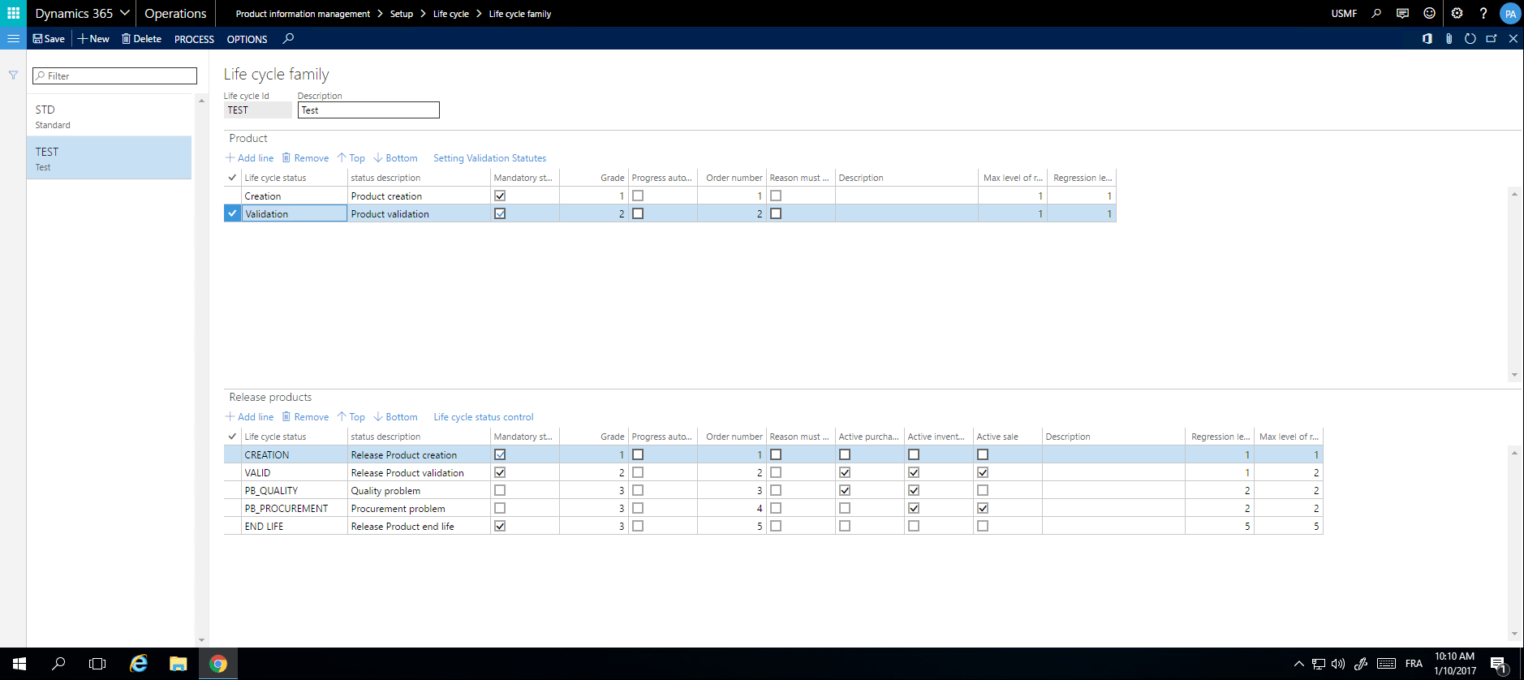 Control products with Item Life Cycle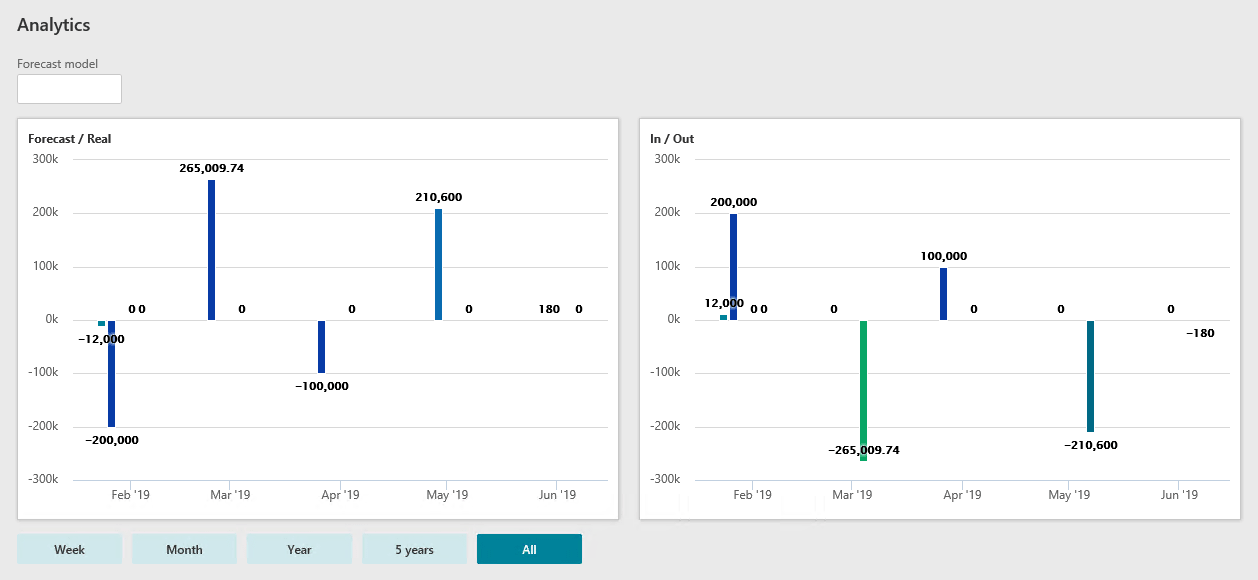 Cash flow visibility with Cash In / Out
Why choose Prodware ?
We are ScoreFact certified on Microsoft Dynamics 365 Finance and Supply Chain Management. As leaders in digital transformation, our approach as a trusted advisor for our clients helps you match leading technologies with business realities, to meet the challenges of your role within Manufacturing, Distribution and Professional Services. We create integrated add-ons to answer to your functional and technical needs with best practice and productivity in mind.
Have a project? Let's talk!