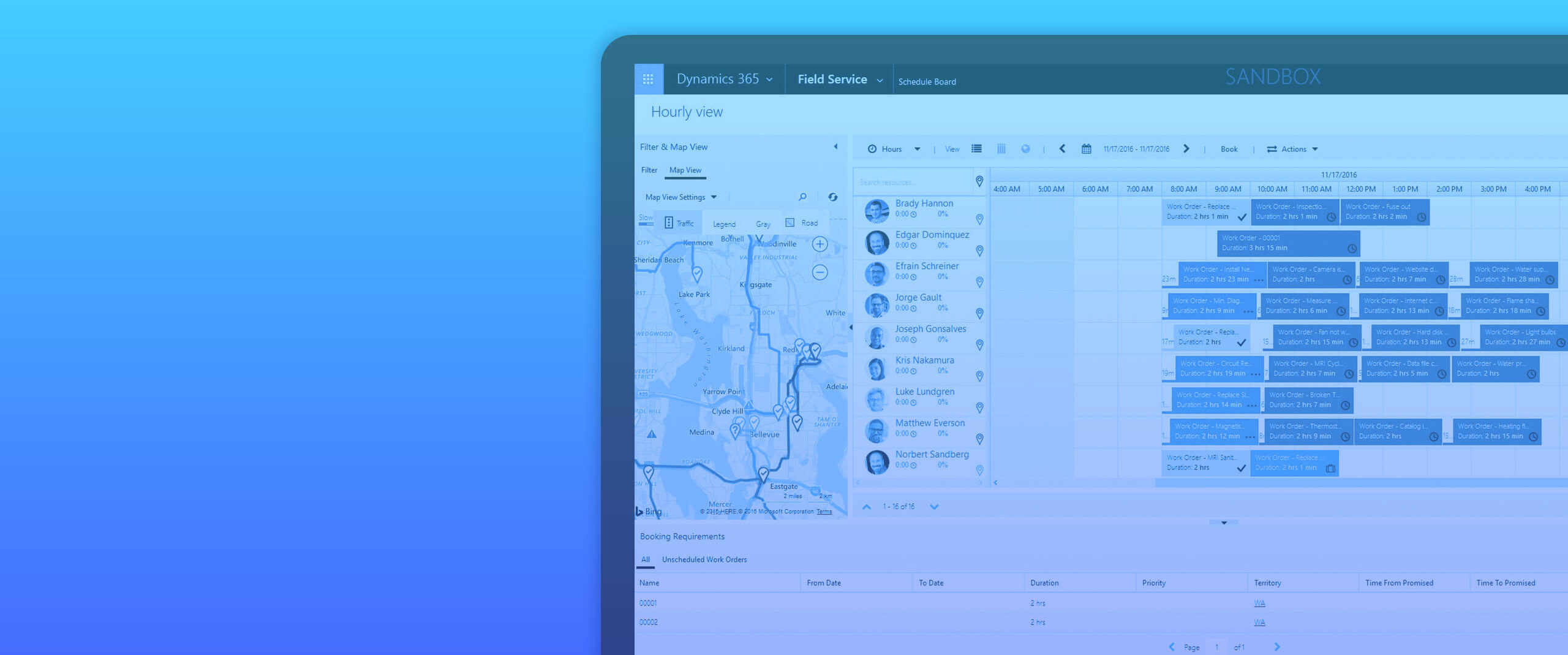 Microsoft Dynamics 365 Field Service
Improve your first time fix rates and optimize field operations
Microsoft Dynamics 365 Field Service is a complete Field Service Management solution, including service locations, customer assets, preventative maintenance, work order management, resource management, product inventory, scheduling and dispatch, mobility, collaboration, customer billing, and analytics.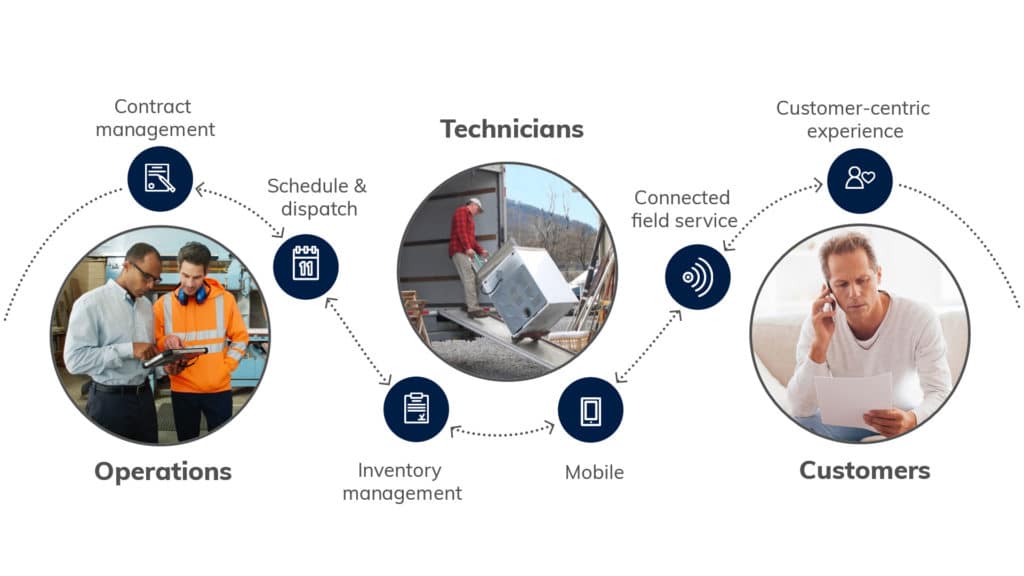 BENEFITS – Microsoft Dynamics 365 Field Service
Deliver proactive service
Increase first-time fix rates through remote access and pre-emptive maintenance. Provide your customers with streamlined, predictable processes and real time visibility into the progress and status of their service requests.
Achieve modern connected field service
Benefit from the latest embedded IoT technology, detect anomalies in connect devices and resolve issues remotely before the customer is aware. Intelligent scheduling recommends the right technician with the right skills to carry out the fix.
Empower your team and drive efficiency
Provide your technicians with the tools they need. Mobile tech helps their ability to achieve repairs first time around. Boost their skills training and remote guidance with innovative technology such as Remote Assist, Microsoft Guides and Hololens which work seamlessly with Dynamics 365 Field Service.
CAPABILITIES – Microsoft Dynamics 365 Field Service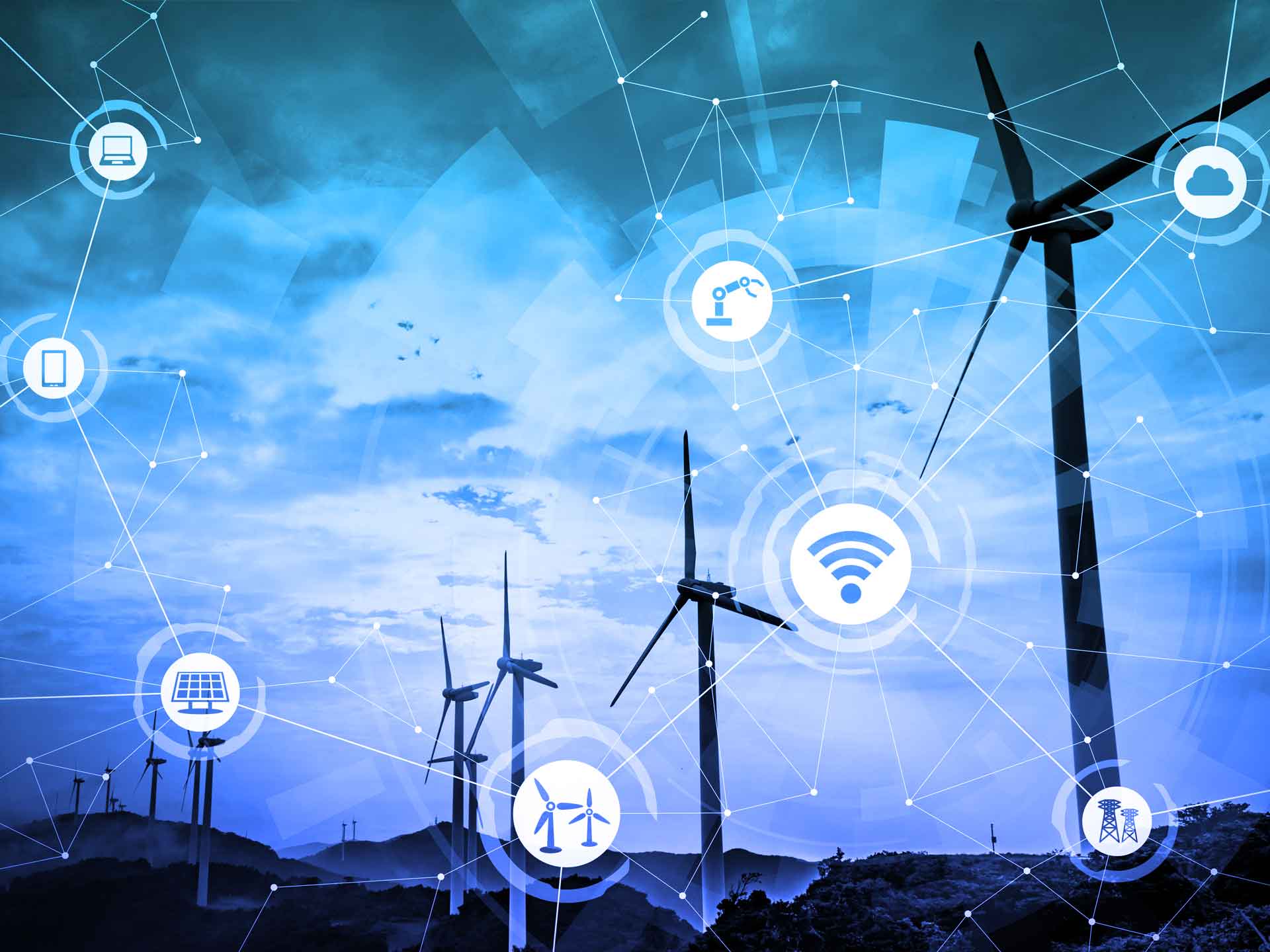 Embedded IOT to boost efficiency
Leverage the efficiency that the Internet of Things enables to detect, diagnose and solve problems. Automatically create and schedule work orders, dispatch technicians with the right skill sets and equipment, and enable them to access customer information from their mobile devices. Go from scheduled services to predictive maintenance; repair, clean, and replace parts only when needed.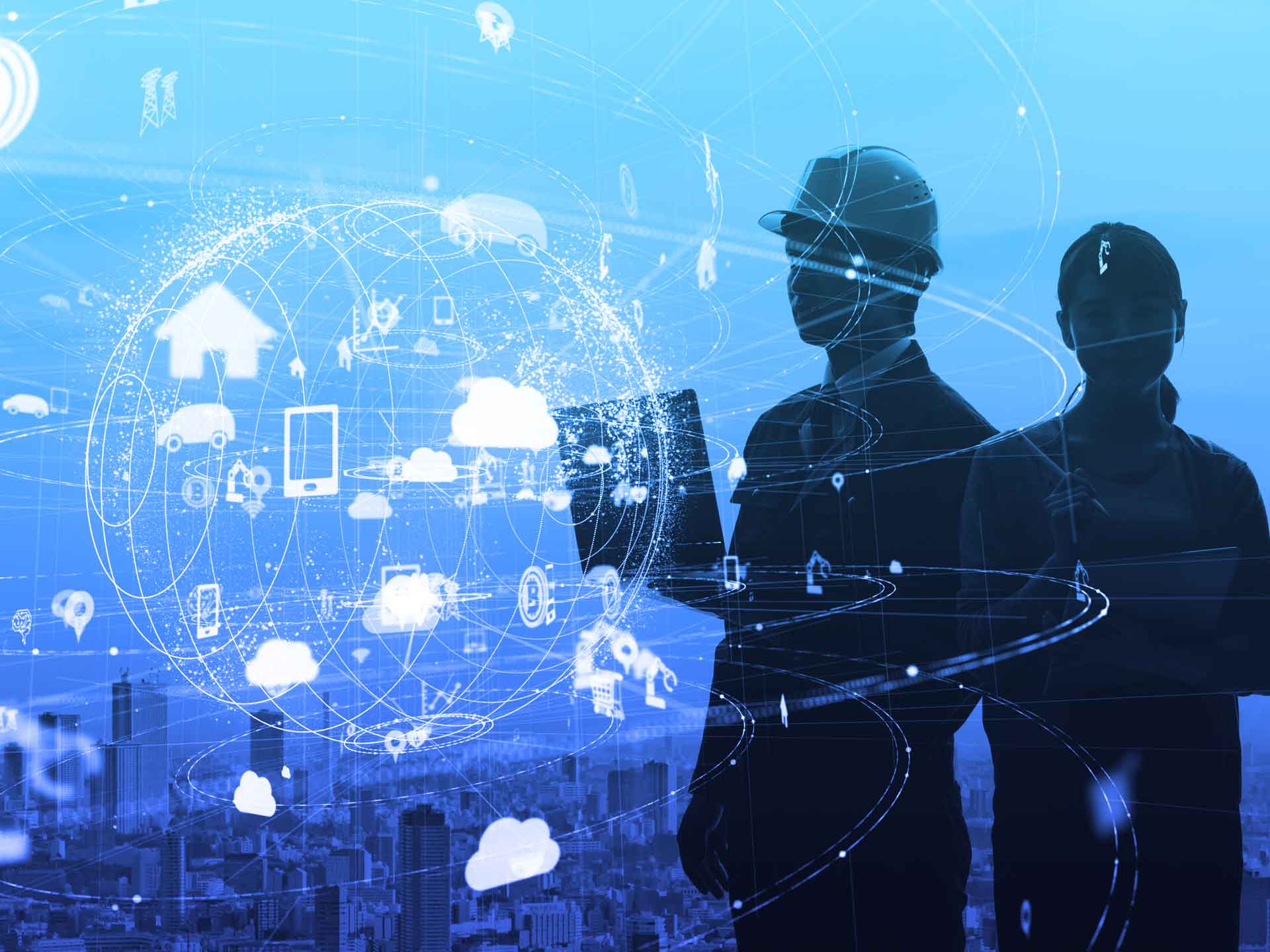 Intelligent resource management and scheduling
Automate scheduling to fit in more appointments per day and match specialists with customer demand for specific skills, priority, location, and estimated appointment duration. Empower dispatchers to manage resource assignments across multiple work orders using an interactive, drag-and-drop schedule board. Streamline inventory management and improve first-time fix rates by synchronizing and tracking inventory down to the truck level with real-time visibility.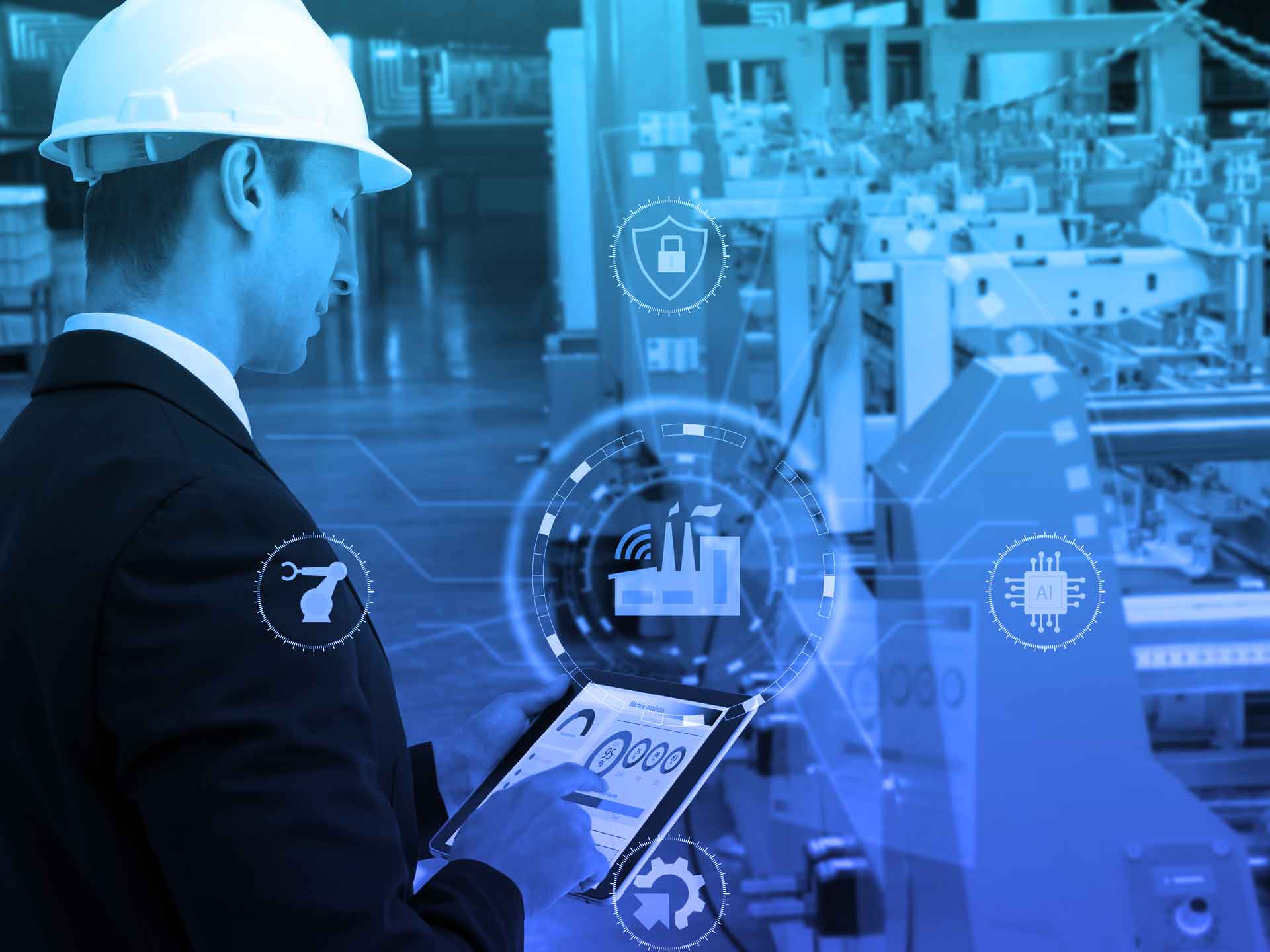 Ensure first time fixes
Empower technicians with state-of-the-art technology such as mixed reality video calling, annotations, and file sharing—allowing them to solve problems correctly the first time. Solve complex problems faster with Dynamics 365 Remote Assist on HoloLens devices. Technicians stay heads-up and hands-free while sharing what they see with remote experts.
FEATURES – Dynamics 365 Field Service
What's inside…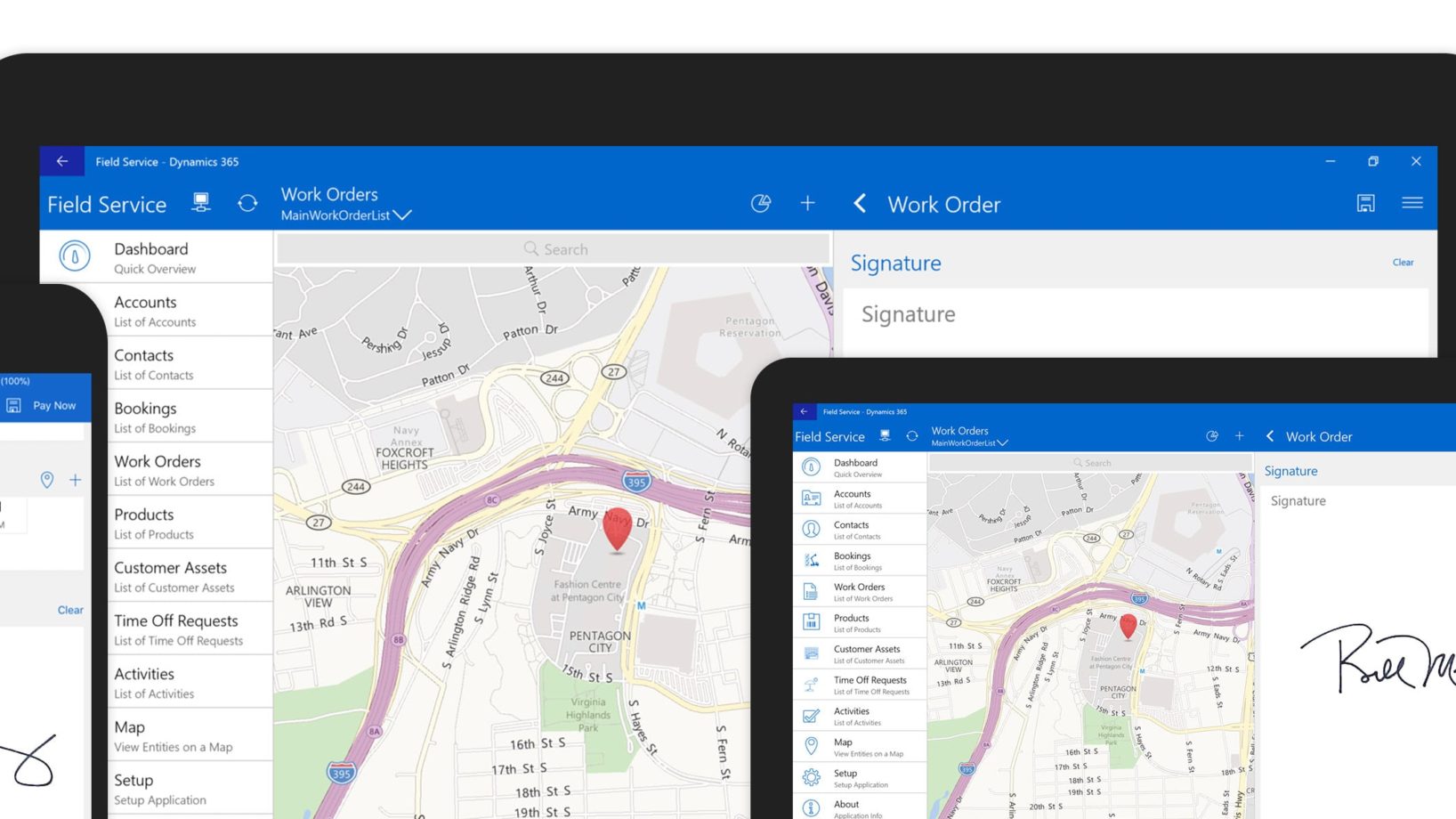 Work order view with customer signature and location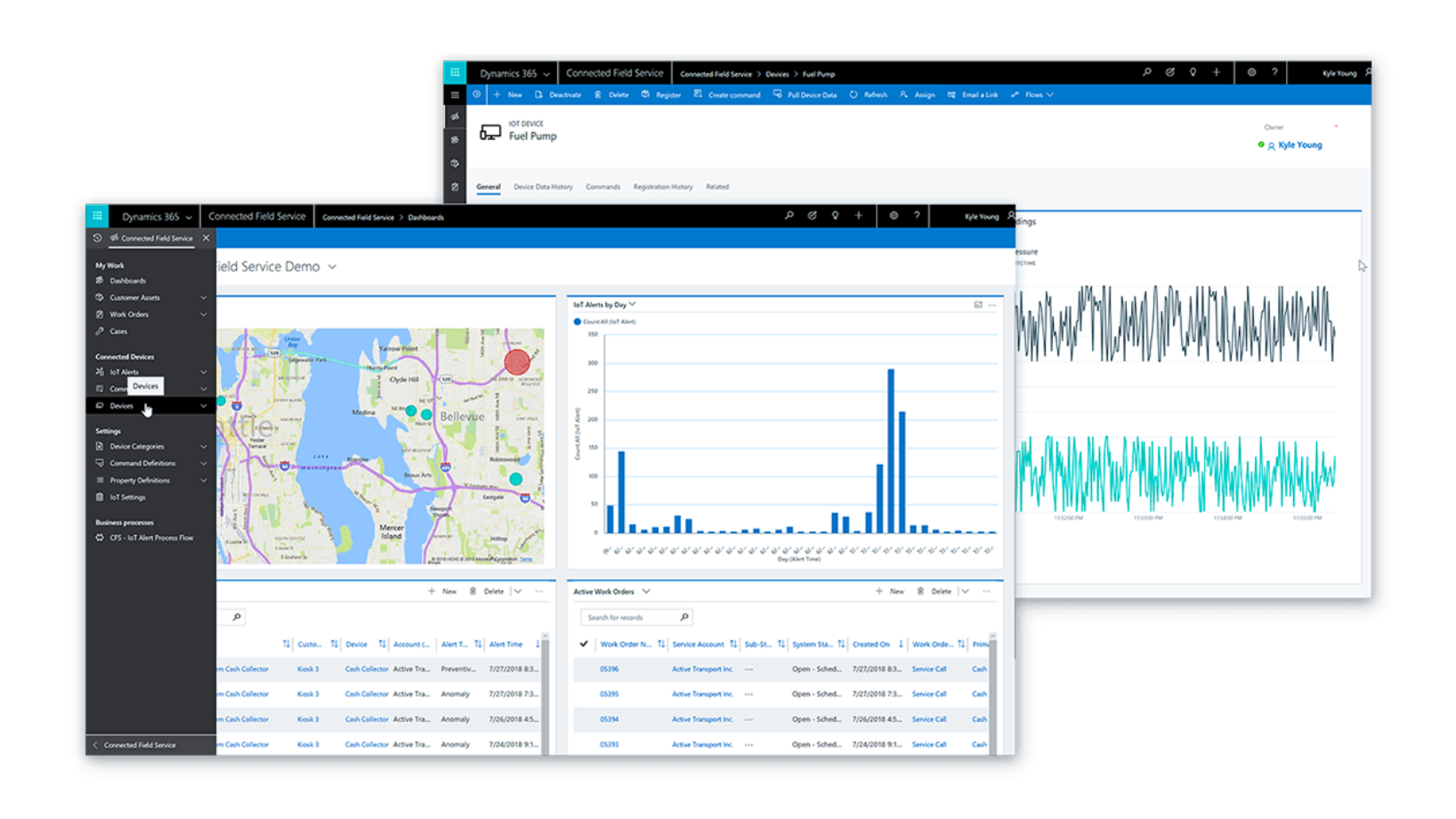 Dashboards showing daily work, KPIs and IoT activities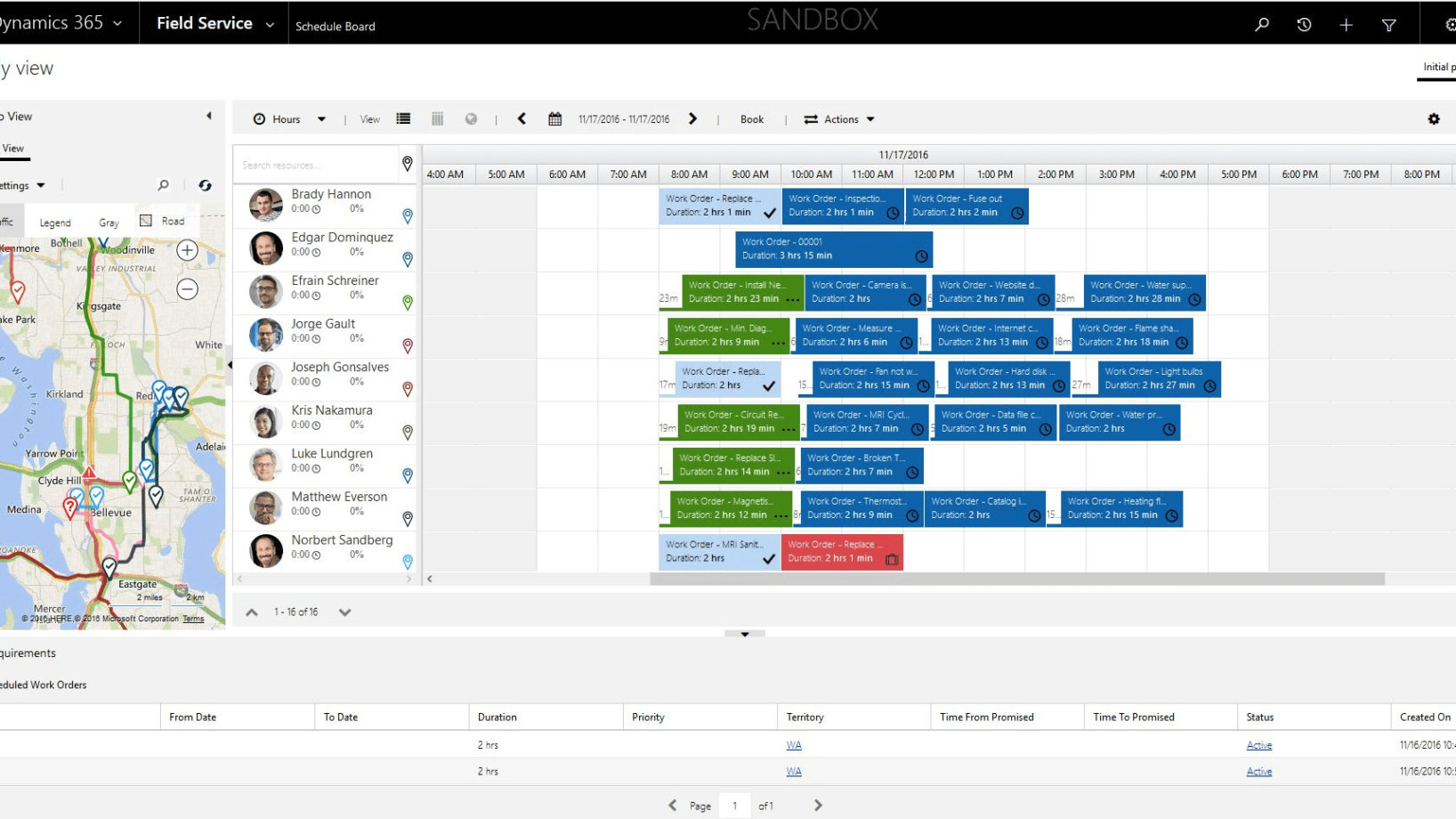 Interactive map to schedule the nearest and available technicians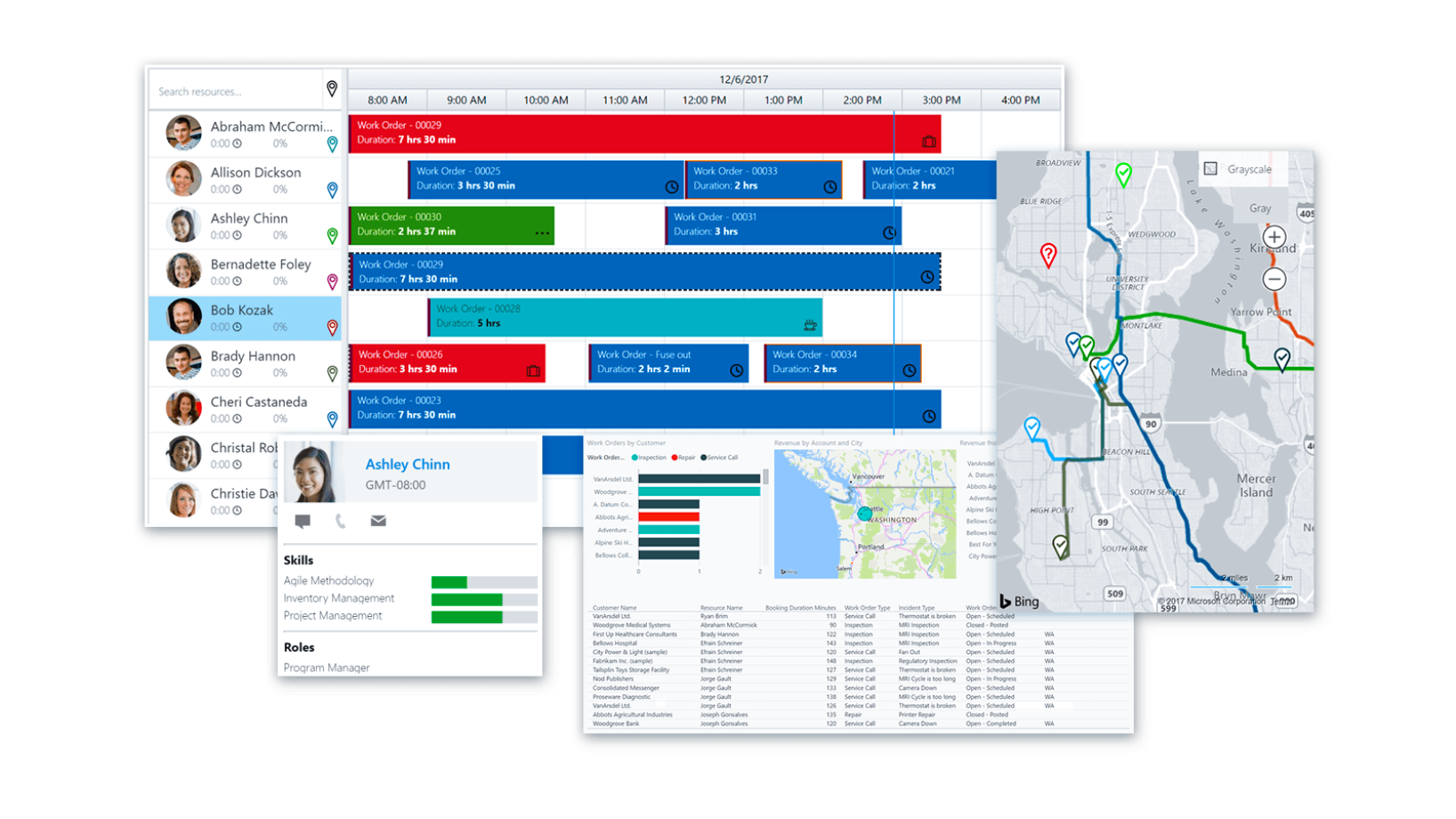 Drag-and-drop scheduling board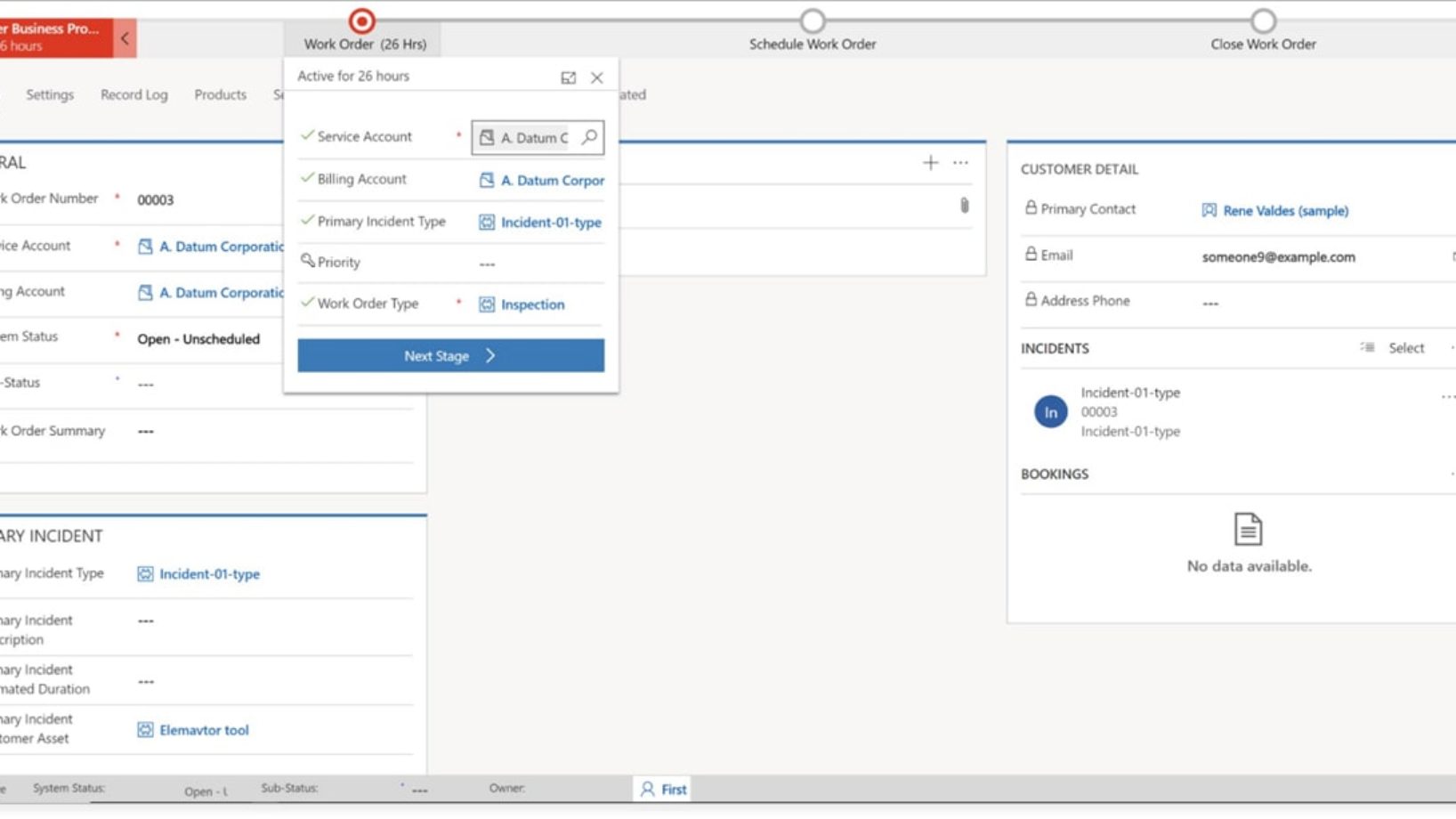 Manage work orders with best practice workflows
PRODWARE ACCELERATORS & SERVICES
Spare Part Finder
First fix rates and timely on-site interventions are crucial for field service operations. When out on-site, engineers lose too much time locating the part they need to complete their intervention and sometimes there are too many teams involved in locating the part needed, including service schedulers, customer service and warehouse teams. Productivity is impacted across the business.

Spare Part Finder is a mobile app that works with Android and IOS tablets and smartphones that uses AI image recognition to match and locate replacement product items and their variants whilst out in the field, reducing human error and increasing productivity, integrated with Microsoft Dynamics 365 Field Service.

With this app, you will shorten intervention processes, empower technicians in the field and provide transparency to customers.
Field Service Consulting
To help build and refine your field service best practice you can benefit from the flexibility of choosing from any or all or the three service packs available within our Field Service Consulting offering, to meet your business needs.
CRM User Adoption service
Our CRM User Adoption service helps in a key element of any CRM implementation, for the long-term success and value from your business investment.
Critically, we support your organization before, during and after CRM implementation to ensure you get the true value of the latest technology.
Field Service Jump Start
A 12 week implementation to get your field service operational quickly, within a fixed scope to build user adoption and ROI.
Customer testimonials
Together with Prodware, Multideur has developed a progressive digital transformation strategy and implemented new IT solutions, including Microsoft Dynamics 365 Business Central, Field Service, Office 365 and Power BI.


The company, on a strong growth curve, was looking for a CRM solution that was quick to deploy and scalable to support their strategy.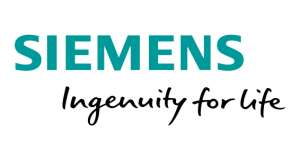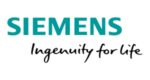 With its eHighway truck, Siemens revolutionizes truck maintenance thanks to Microsoft's Hololens and Dynamics 365 Field Service solutions.
Why choose Prodware?
A Microsoft Gold Partner, Prodware has developed and implemented hundreds of field service management projects across the globe.
We are an international company present in 13 countries across the EMEA region allowing our customers to benefit from a local service supported by a global infrastructure. 
Have a project? Let's talk!